Scarlet (The Lunar Chronicles #2) - Marissa Meyer
I got through this in two days. TWO DAYS. All I'm saying is that's a sign of a good book.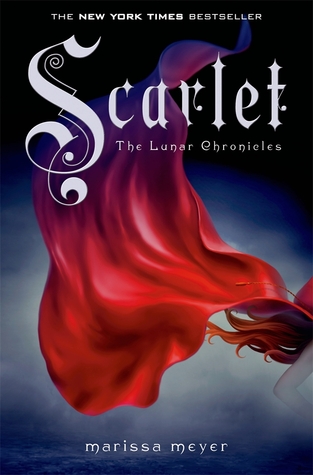 Cinder, the cyborg mechanic, returns in the second thrilling installment of the bestselling Lunar Chronicles. She's trying to break out of prison—even though if she succeeds, she'll be the Commonwealth's most wanted fugitive. Halfway around the world, Scarlet Benoit's grandmother is missing. It turns out there are many things Scarlet doesn't know about her grandmother or the grave danger she has lived in her whole life. When Scarlet encounters Wolf, a street fighter who may have information as to her grandmother's whereabouts, she is loath to trust this stranger, but is inexplicably drawn to him, and he to her. As Scarlet and Wolf unravel one mystery, they encounter another when they meet Cinder. Now, all of them must stay one step ahead of the vicious Lunar Queen Levana, who will do anything for the handsome Prince Kai to become her husband, her king, her prisoner.
I read the first book in this series,
Cinder
, a few years ago. I've been meaning to read this book...for a while. Though I have this book on my Kindle, I didn't "read" this book. I went the audiobook track. And I'm so glad I did. The narrator was so good. I may have to go back and listen to Cinder in audiobook form. Anyway! Moving on.
As much as I loved Cinder, I may be head over heels for Scarlet. Like Cinder, she's a tough chick, a badass chick you do not want to mess with. They both have a singled minded determination. They both have lost so much and also uncover many, many secrets about themselves. With Scarlet though, there is a fiery steel of stubbornness. She is a bit more mature, more brave, more sure of herself. So, when Meyer crushes Scarlet's world, it's more devastating and heart wrenching. And when she breaks...oh man...you feel it. I felt her devastation down to the bottom of my stomach. I felt her confusion and betrayal and her disgust. Not that those things weren't felt with Cinder, but Scarlet's emotions felt more real. Her interaction with Wolf, the mysterious fighter who appears in Scarlet's tiny French village, is curious and part of the emotional ups and downs that Meyer takes us on with Scarlet. But when Marissa Meyer breaks Scarlet, holy shit...does it HURT. The pain and the fear of Scarlet's world just shattering all around her is so sharp you can't but help feel everything.
We also get the introduction of Carswell Throne, a rugged and dashing American outlaw who accompanies Cinder through her storyline. He provides much needed comic relief along with all the action and seriousness that prevails this dark reimaged fairy tale. I could go on and on and on about the roller coaster that is this book...but then, that would leave out all the mystery when YOU read this book.
This story is one that will keep you turning the page or, as in my case, sneak in any available time to listen to the audiobook. Whatever tickles your fancy, get on this book series if you haven't. It is a wild ride from start of finish and oh man....THE FEELS!!
Thank you so much for stopping by for a quick read of my blog.
Remember to always be yourself...unless you can be a pirate...THEN BE A PIRATE!!